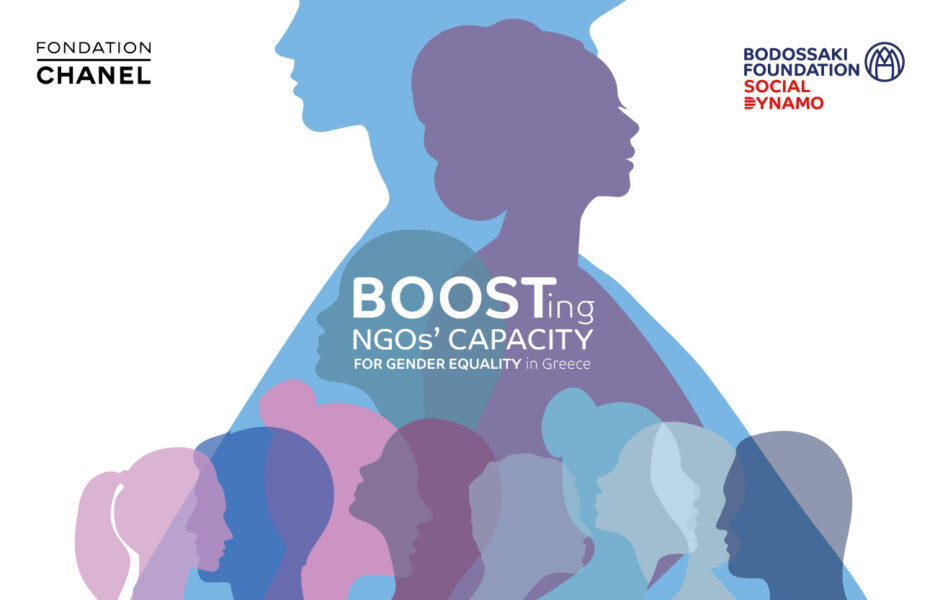 Sep 18, 2023
Bodossaki Foundation and Fondation CHANEL join forces with the aim of promoting gender equality and women's empowerment in Greece and announce the 15 organisations that have been selected to participate in their new joint programme, following an open call for proposals.
The programme will strengthen the capacity of 15 selected small- and medium-sized Civil Society Organisations (CSOs) active in promoting gender equality and women's empowerment in Greece. This will be achieved through a 5-month tailor made capacity building programme developed and offered by Bodossaki Foundation's NGO Hub, Social Dynamo. It also includes the provision of small-scale grants of up to €10,000 to the 15 participating CSOs, to strengthen their capacity and to implement activities promoting gender equality and/or women's empowerment.
The 15 selected organisations and the projects they will implement are:
1. Women Do Business
Project: Three-month Mentoring Program "Find your mentor"
2. The Gender Alliance Initiative
Project: Exploration, experimentation, and reconstruction of new healthy expressions of masculinity
3. Greek Association of Academic Women (ΕΛΕΓΥΠ)
Project: The Gender Map of Greek Universities
4. Mamagea
Project: Genderyard: Cultivating gender equality in public schools through educational workshops and vegetable gardens
5. Genderhood
Project: Syne/no for Educators: A guide to cultivating consent skills in the educational environment
6. Ladies Union of Drama
Project: Empowering women in remote areas
7. SONORA: Interdisciplinary Society of Music Therapy and Research
Project: Claiming my voice: The feminist perspective in music therapy
8. Children First Greece
Project: Promoting the Girls Empowering Girls program to empower single mothers and girls
9. Rise Club Urban
Project: WoMental
10. Greek Committee of International Relations Students of Medicine
Project: How to treat your Patient: Advocacy to combat gender-based violence
11. We Need Books
Project: Let's talk about our labor rights! A seminar by women for women
12. AEGIS
Project: Strengthening Greek Women in STEM – supporting actions that celebrate Greek women in STEM
13. Reading to the Others
Project: All Women One Voice
14. Home-Start Greece
Project: Improving the skills of Home-Start Greece for more effective and impactful empowerment actions for socially vulnerable mothers
15. Storymentor – Stories that Change the World
Project: FAILING FORWARD
The objective of the programme is to support the development of smaller organisations across Greece, in order to increase their sustainability and the impact of their work. The capacity building programme will offer the CSOs access to a wide range of services including training, mentoring, coaching and consulting.
The need for this initiative is clear, as the annual report of the European Institute for Gender Equality (EIGE) recently ranked Greece last among EU countries in gender equality for yet another year, with its lowest scores in the domains of power and economic decision-making. In parallel, Bodossaki Foundation has recorded the need to support the organisational development of smaller CSOs which are active in the field of gender equality throughout the country.
Bodossaki Foundation is committed to promoting gender equality. In recent years, the foundation has supported a number of CSOs working in this field, supported Greece's General Secretariat of Family Policy and Gender Equality to improve its services, and implemented activities to improve gender equality in the workplace in Greece. Bodossaki Foundation is also a member of the Alliance for Gender Equality in Europe.
Bodossaki Foundation is also one of the leading providers of capacity building services to civil society organisations in Greece. Bodossaki Foundation's Social Dynamo is the expression of the Foundation's vision of a dynamic civil society that acts, influences, and engages, and offers comprehensive support to civil society actors, with a focus on learning, professional support and networking.
Since its establishment in 2017, Social Dynamo has welcomed more than 11,500 representatives of civil society organisations, supporting the organisational empowerment of more than 1,400 CSOs from all over Greece, in collaboration with an extensive network of 250 partners, including organisations such as KEMEL and Hellenic Coaching Association, businesses, international NGOs as well as experienced mentors and trainers.
Fondation CHANEL aims for women and girls to be free to shape their own destiny. Over the last 12 years, it has built a highly credible philanthropic approach and directly impacted over one million women in the world. The Foundation believes that those closest to the issues are best suited to develop the solutions. This guiding principle is reflected in the Foundation's long-term relationships with partners as well as its offering of support to strengthen their operational capacity and amplify their voices. Fondation CHANEL has actively pursued partnerships in Greece since 2017.