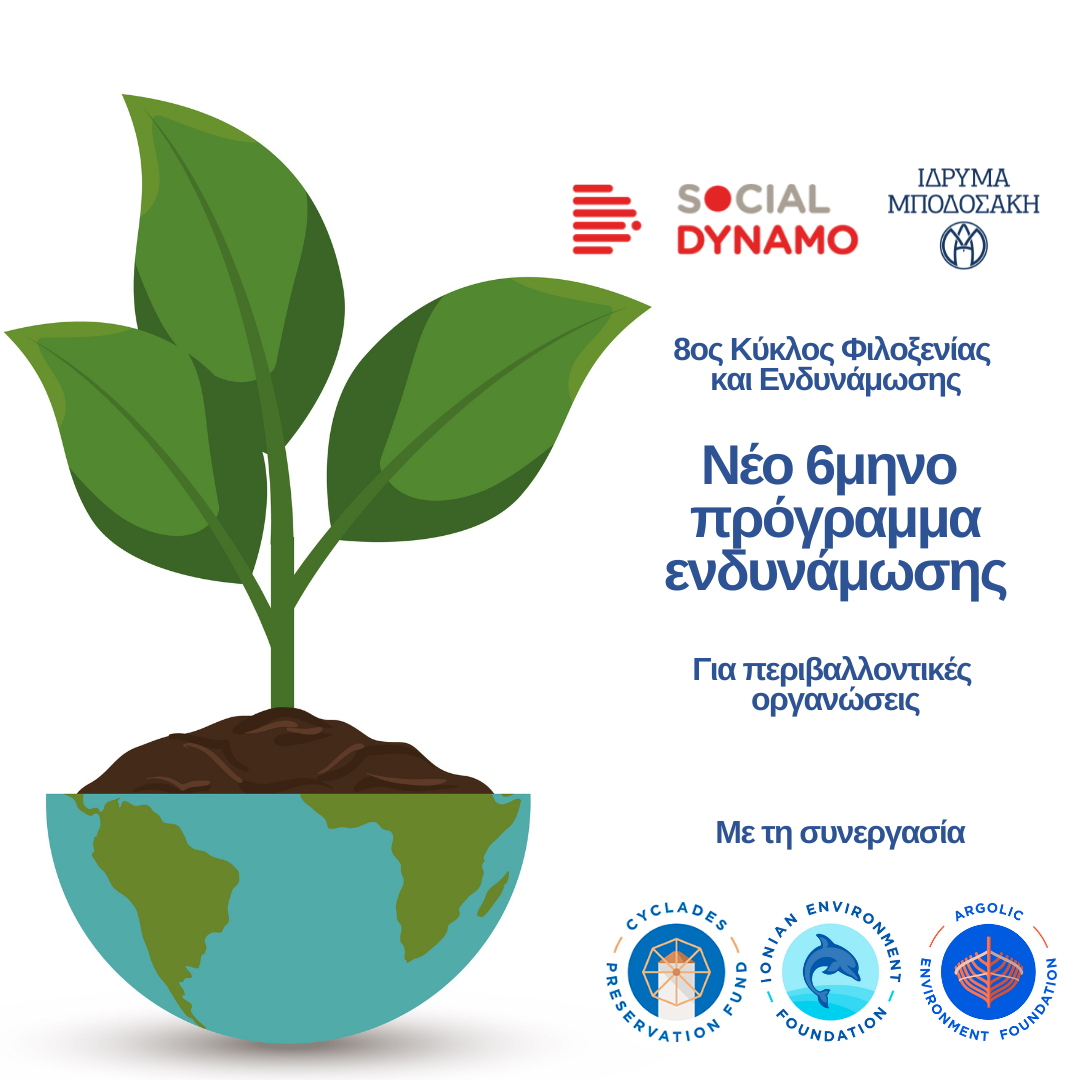 Oct 11, 2021
December 2021 – May 2022
Having a common vision of a global health and sustainability for human beings, animals and the environment, we are enthusiastically starting our new program,inviting environmental groups and organisations to participate in the new 6-month cycle of Empowerment of Social Dynamo, designed and implemented by Bodossaki Foundation, with the support of Cyclades Preservation Fund, Ionian Environment Foundation and Argolic Environment Foundation (AEF). Our strategic partners are the Municipality of Athens and Thessaloniki.
The programme aims to support 15 environmental organisations and groups in their future steps and in their journey to maximizing their social impact. The participant organisations will be provided with trainings concerning their organizational development, seminars on management of environmental challenges and sustainability, as well as mentoring, coaching, consulting services and network opportunities.
The aim of the thematic specialization of the 6-month programme of Social Dynamo is to empower skills, support initiatives of the nonprofit sector and encourage synergies.
The programme was designed based on the needs and priorities of the environmental organisations from all over Greece, as mapped by the relevant research conducted by Social Dynamo, the Cyclades Preservation Fund, the Ionian Environment Foundation and the Argolic Environment Foundation (AEF).
Structure of the program
The programme includes educational seminars, consulting, mentoring and coaching sessions in addition to network opportunities. Each organization has the possibility to choose and participate in as many courses as they wish. Approximately 12 hours of training will be conducted each month. Detailed information on the trainings can be found in our monthly newsletter, in the Social Dynamo Facebook page, as well as in the events calendar in our website. Indicatively, the programme of trainings will include NGOs' management topics as well as environmental topics. The detailed programme will be designed based on relevant needs and level of organizational development of participating organisations.
How to apply
The programme is addressed to Greek speaking applicants. For further information on the application process, please refer to the Greek version of the present article or contact socialdynamo@bodossaki.gr – 210 3221287.