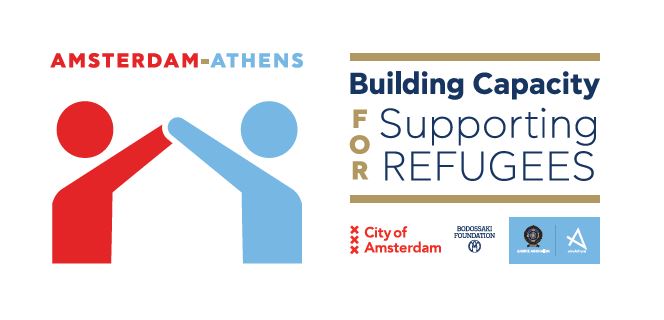 The training, taught by the Greek and Dutch Council for Refugees (GCR & DCR), will focus on good practices for the integration of refugees, asylum seekers, and migrants  in Greece. The morning session will discuss the possible content of 'integration' and provide an overview of integration issues in Greece and the Netherlands as well as the role that NGOs can play in this regard. In addition DCR & CGR will share and exchange best practices with the participants from their extensive experience in this field. The second part of the training will be interactive. By using the lessons learned from the first part, the focus will be either on (a) engaging volunteer participation in the organisations (b) designing specific interventions (c) encouraging participation from target group communities. The training aims to provide the participants with the necessary skills in order to apply good practices on integration in their own working field.
1 or 2 individuals from the same organization/group can apply to participate in the training.  All of the specified participants must be available for the full duration of the training. 
The workshop will be held in English.
When and where
The workshop will take place at Social Dynamo,  Serafio – Sports, Culture and Innovation Center, Pireos & Petrou Ralli 11 854 Athens, Greece, on the 2nd floor, on Monday 4th November, from 10am to 5pm.
How to apply
You can apply here.  Applications will be open until 23rd October. Due to a restricted number of spaces, applicants will be informed by 25th October about their participation.
About the Dutch Council for Refugees
For over 40 years DCR has been the largest independent nation-wide operating refugee-assisting organization in the Netherlands, working in legal and social support of refugees and asylum seekers and in representing their interests. DCR works together with over 13.500 trained volunteers, all facilitated and coordinated by paid staff. In addition, DCR is also active outside of the Netherlands in close cooperation with CSOs at the in- and outside borders of the EU and support them by sharing DCR´s knowledge and expertise. For example, over the last decade DCR has undertaken several projects in the Balkans in collaboration with the organizations that have now decided to form the Balkan Refugee and Migrant Council. DCR strongly supports this initiative, having seen the need for a more coordinated and joint approach in the region. International solidarity and responsibility drives us to share our knowledge and broad experience with other NGOs abroad. By doing so, we aim to further strengthen sister NGOs so they can offer asylum seekers and refugees the best possible help and assistance. Our projects are funded by the Dutch Ministry of Foreign Affairs, the EU, NUFFIC and other funds.
About the Greek Council for Refugees
Founded in 1989, the Greek Council for Refugees (GCR) provides legal assistance and psychosocial support to asylum seekers and refugees, promoting their rights and facilitating their social integration. GCR's services include legal counseling and representation before asylum authorities, national courts and other judicial and administrative authorities as needed and border monitoring. It also provides social counseling, support for accommodation, education, employment and other integration issues; educational and cultural activities for asylum seekers and refugees, including children and unaccompanied minors.  GCR has been a leading advocate and service provider for the protection of refugee human rights in Greece; a focal point for newly arriving refugees. Over the years the organization developed an integrated service model of social and legal assistance in supporting asylum seekers, refugees and particularly vulnerable people, minors, single parent families, survivors of violence, survivors of trafficking etc. in need of protection. Important part of its mission is advocacy and promotion of refugee rights with participation in national and international networks, campaigns and several other fora; implementation of seminars for police, local administrations, lawyers, prosecutors and judges; raising awareness in Greek schools; reporting to relevant national and international institutions and bodies on the asylum situation in Greece. GCR is a recognized entity, included in the official Registers of competent Ministries, has a Consultative Status in the Economic and Social Council (ECOSOC) of the UN since 2001 and is implementing partner of the UN High Commissioner for Refugees (UNHCR). Over the years, GCR has joined a number of other national, European and global networks and platforms.
About the instructors
Marieke van Zantvoort is working as a legal adviser at the Dutch Council for Refugees (DCR) and has a background in Public International Law. About seven years ago she started working for two Regional offices of the DCR by setting up a civic integration programme for refugees. After that Marieke switched to the National Office where she now works at the legal department as a counselor on integration. She provides advice in legal procedures for lawyers, partner organizations and colleagues in the field and is specialized in Dutch law and policy on (civic) integration and (labour market) participation. In the last year she gained experience as a voluntary job coach of two Syrian refugees.
Natasa Pantazi is a Project Manager at the Greek Council for Refugees, where she coordinates, leads, trains, develops and creates sustainable solutions for the organization's integration projects. Ms Pantazi has extensive experience in project design and implementation and has worked specifically in the non-governmental sector for the past 10 years. Highly skilled professional has provided training to professionals at conferences and workshops for several years. With a varied educational background in Political Science -International Law and Social Anthropology has a strong understanding of the skills needed to make seminars engaging and meaningful to participants by using a variety of learning tools and experiential methods. She coordinates a team of various professionals, she develops interventions and trains people on multiple issues such as intercultural approaches to the social context, gender, sustainability, education, employment, and the development of team building and communication in a non-formal educational format.